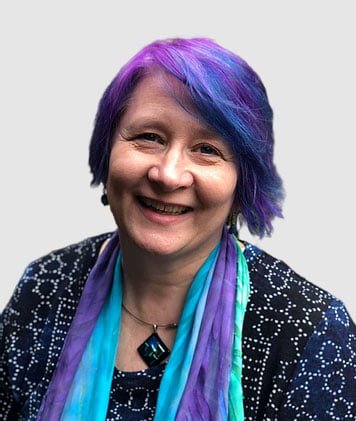 KIMBERLIE CLARE-CAMPBELL
heads up the Bright Crafts family
Bright Crafts helping you be creative the easy fun way
Hello rainbow craft friends,
This is the story about Kimberlie and the bright beautiful craft and kits you find at Bright Crafts.
As a parent of a young boy, I didn't want him wearing clothing featuring skulls or being free advertising billboards for multinational companies. While organic clothing attracted me, the colours were drab and bland. I learnt the art of Tie Dyeing in 2006 and created bright colourful clothing that he loved to wear.
Soon his friends were asking their parents to buy them some of Kimberlie's Tie Dye t-shirts too! In Autumn 2007 I held my first market stall at the Artisan's Market at Linuwel School. It was a stunning success, with children changing into their t-shirts even before leaving our stall! I founded Magic Starfish in 2007. The range soon expanded to include dresses, skirts, aprons, tea-towels, pillow cases and bags.
Over the years I have worked in numerous industries, but craft has always been my passion. I left the Magic Starfish partnership and established Bright Crafts after seeing a deep need for children, teenagers and adults to be able to explore and express their creativity in fun and easy ways. We create Bright Crafts Kits help make quality textile crafts more accessible.
"My favourite part of being at markets is seeing both children and adults putting their Tie dyes on straight away because they can't wait to wear them!"
Bright Colours Awaken the Senses
It's facinating watching children deciding which Tie Dye to make their own. Children are attracted to the bright, beautiful colours and exciting patterns and will choose a pattern and colours which help them express their personality. Parents love their children being seen easily in a crowd when wearing their tie dyes; they also love the practicality of a colourful patterned t-shirt to hide any messy marks! Adults who work in Aged Care love the sensory stimulation and sence of wellness the bright colours awakens their patience.
Making Creativity Easy for You
Professional Quality Craft Kits & Refills
My dad was a professional artist and instilled in me at an early age to always use the best quality products you can afford. Quality products produce stress free results more easily for less cost in the long run.​
Bright Crafts follows his lead by sourcing the highest quality ethically produced products to create our craft kits. Our kits include professional textile dyes, Australian Merino Wool Rovings, DMC perle threads to make your crafting experience easier and giving your finished piece longevity.
Sustainability & Longevity
We try to ensure that all aspects of our business are based on environmentally sustainable practices.
All our clothing and accessories are made with
sweatshop free labour

fair trade practices

fair labour principles

sustainable fabrics including organic cotton, hemp, and bamboo fabrics are our priority

the most environmentally friendly, child safe, fade resistant dyes available in Australia

we activly seek out ethical local manufacturers to collaborate with
We "road test" all the products we supply for longevity. We want our customers to be able to purchase a Bright Crafts Tie Dye and know that the colours will stay bright after years of washing and the quality of the garment means that it can be handed down to siblings and cousins and still be bright and beautiful.
Accessibility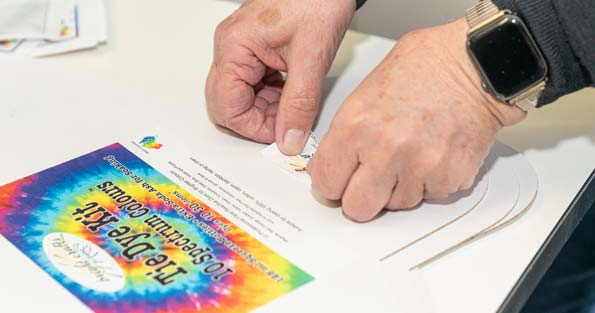 During 2016 I have been working with Octopod and Accessible Arts to ensure all our products are accessible to everyone.
All our Tie Dye kits now have large print versions of instructions available.

We are working on photographic versions of our instructions.

From 2018 our new instructional videos will be subtitled.
Sharing More Rainbows
We love rainbows and we love crafting with natural materials. Sadly many children are given inferior materials to craft with. Our aim is to provide children with the opportunity to craft with beautiful natural products including 100% wool felt and natural soaps.
Kimberlie has been privileged to work with many proactive organisations in bringing rainbow crafts to their children.
For information about our Tie Dye kits for Schools, large groups and Vacation care visit our sister group craft websites Tie Dye Workshops and Craft Workshop Kits
Where to Next?
Bright Crafts is focusing on providing you with fun and education craft kits during 2020.
All Bright Crafts kits are made in the Hunter Valley NSW in our own workshop. New kits coming in 2020 include wool dyeing kits, silk dyeing kits, felting kits.
All our Rainbow craft kits can be posted all across Australia.
We will continue to work with ethical local manufacturers and suppliers, especially owner-operated businesses who contribute so much to their local communities.
If you'd like to get in contact with Kimberlie please use the contact form.